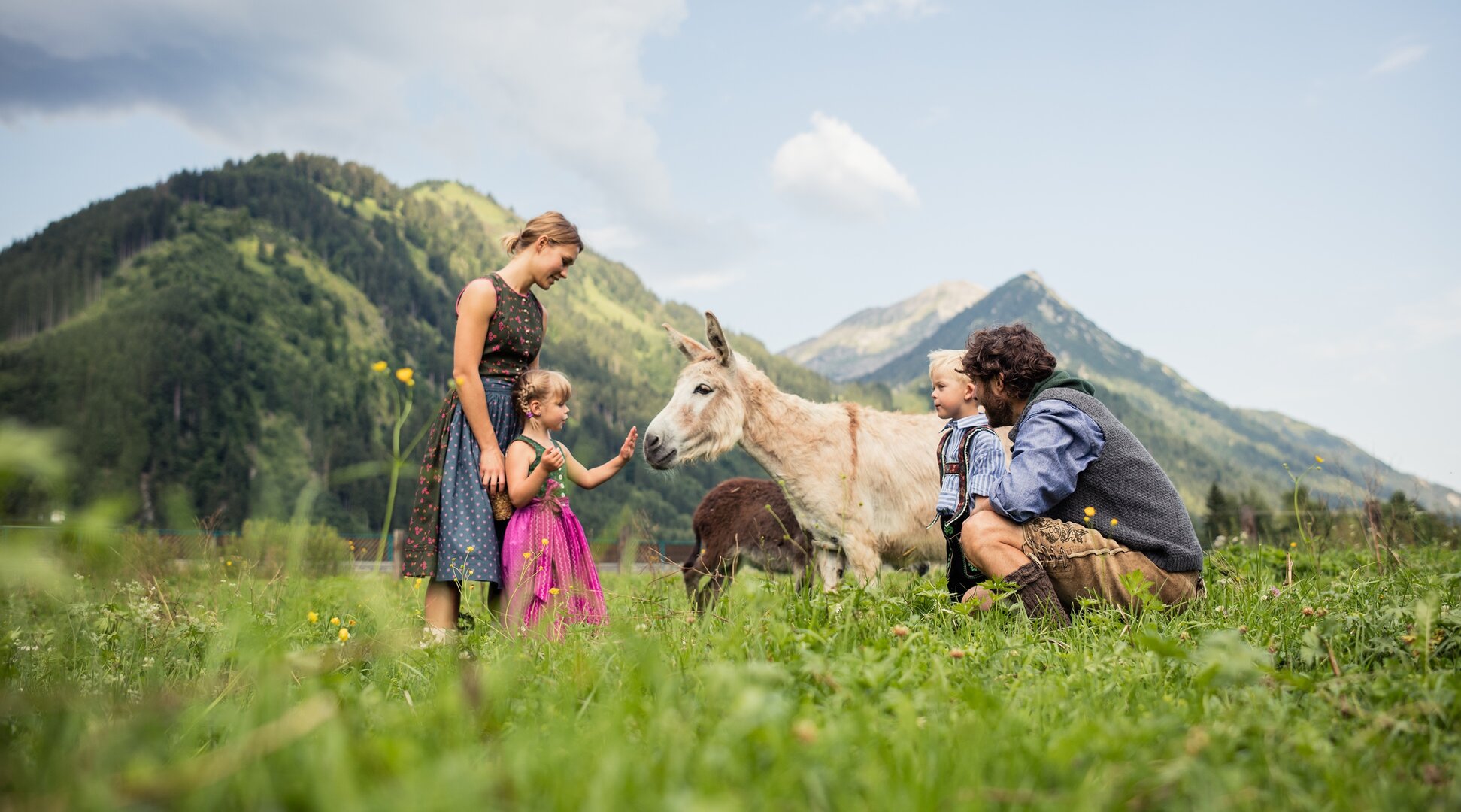 An unforgettable family summer
Holidays with children in the Tiroler Zugspitz Arena
Holiday joy and plenty of variety with a view of the Zugspitze! If that's what you're looking for, you can find it in the Tiroler Zugspitz Arena – thanks to diverse activities for families, childcare for kids of all ages, and special family hotels. Look forward to some time off as a family full of adventures and fun but also relaxation and recreation amidst a beautiful natural landscape!
Family holidays at the foot of the Zugspitze
Hiking with the whole family
A water-themed trail, a magic forest or the Beaver Path: In the seven towns of the Tiroler Zugspitz Arena, there's a lot to discover for little and grown-up hikers. Special themed trails are the proverbial icing on the cake during a hiking holiday with your whole family. What's more, a number of routes are suitable for baby buggies and prams. You're wondering which? Have a look at the "Baby Buggy Mile"!
Tip: If you'd like to have some fun a few feet to several metres above the ground, you might want to visit the high ropes course in Bichlbach. And in case the weather isn't so great one day, the Ehrwald Indoor Climbing Gym is an amazing alternative.
A variety of family adventures
Always staying active and in motion: That's the motto for the countless family-friendly summer activities in the Tiroler Zugspitz Arena. At lovingly designed playgrounds, during a visit to the petting zoo, at the bathing pond of the sports and leisure park, or on the 3D archery course: The vast selection of fun things to do will put a smile on both kids' and their parents' faces.
Once in a while, Mum and Dad might want to have some time to themselves. And of course, the little ones might enjoy some time away from their parents as well – going on exciting adventures with their peers. On family holiday on the Tyrolean side of the Zugspitze, you can "hand over" your kids to professional childminders for a few hours – without having to feel bad for doing so. Depending on their age, kids participate in a variety of enjoyable and fun activities for children.
Für mehr Erholung im Urlaub
Ausgezeichnete Familienhotels
Aus Liebe zur Familie! Getreu diesem Motto haben sich einige Hotels auf die Bedürfnisse von Eltern und Kindern spezialisiert – angefangen bei der entsprechenden Zimmerausstattung bis hin zu kinderfreundlichen Services. Diese Angebote sind ideal für eine generationsübergreifende Auszeit in der Tiroler Zugspitz Arena, die neben wohlverdienter Erholung auch jede Menge Familienspaß mit sich bringt.
Get more out of summer …
… in the Tiroler Zugspitz Arena
Besides the usual summer holiday must-dos – hiking and biking – families can experience a number of slightly more "exotic" adventures at the foot of the Zugspitze. How about paragliding or stand-up paddle boarding, for instance? What's more, the local lakes and public pools are perfect for a refreshing dip in the water on warm summer days.
By the way: With the Z-Ticket, family fun in the Tiroler Zugspitz Arena becomes particularly affordable. Holders of this advantage card benefit from a number of included services and discounts – for instance, free cable car, lift and bus rides.