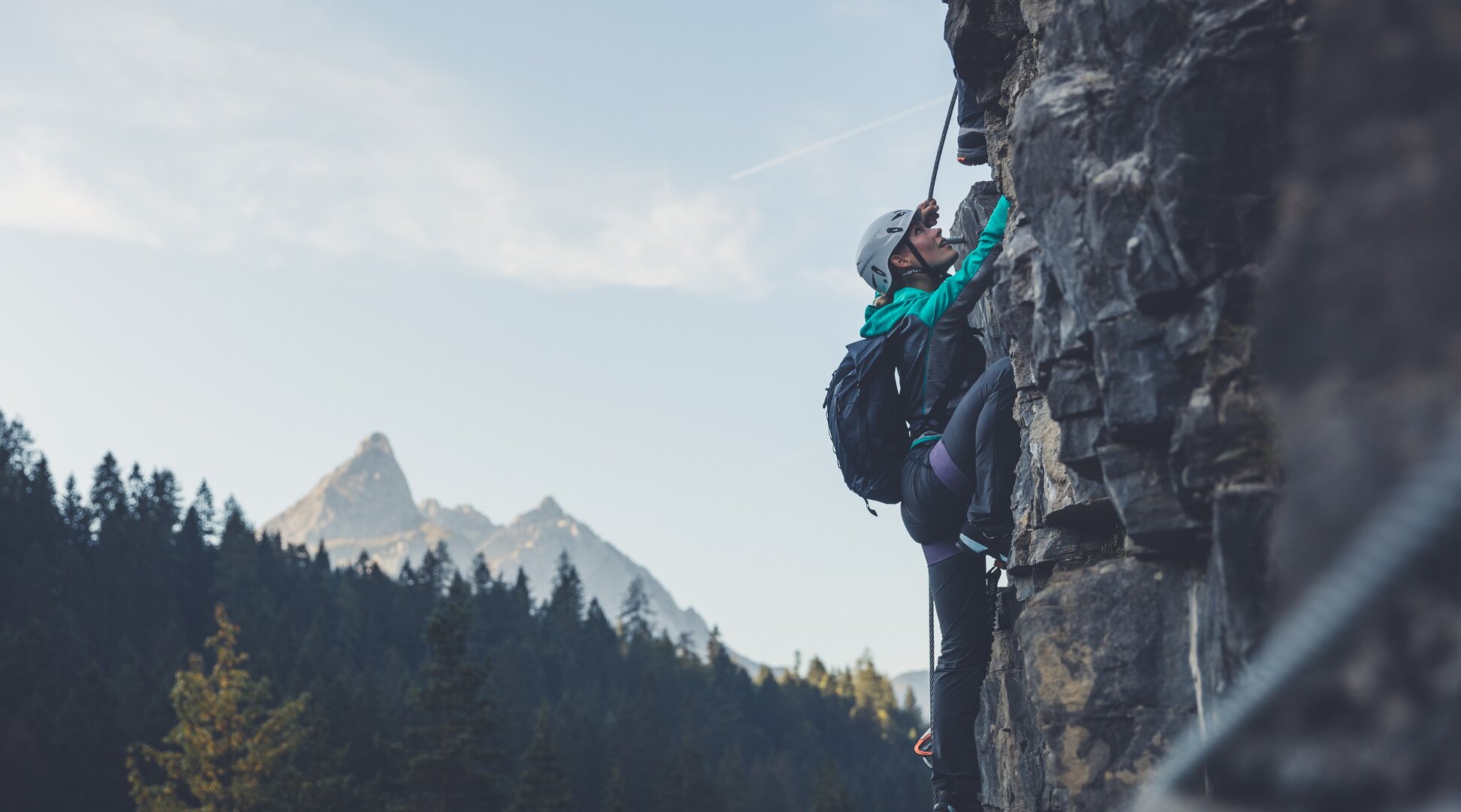 Unforgettable experiences in the vertical plane
Climbing in the Tiroler Zugspitz Arena
Impressive rock faces, lovingly designed climbing crags and well-secured via ferratas: In the Tiroler Zugspitz Arena, hobby and sports climbers can choose from a variety of options for unforgettable experiences in the vertical plane. Your decision is purely based on your skills and personal taste, but whichever option or route you select: Climbing aficionados are always surrounded by the unique alpine scenery on the Tyrolean side of the Zugspitze.
Good to know: Many via ferratas and routes face south, which means they can be climbed in the early morning hours already. For longer tours, there are plenty of huts for breaks and even overnight stays.
Offers for climbers in the Tiroler Zugspitz Arena:
7 sport climbing crags
7 multi-rope routes
4 via ferratas
7 ice climbing routes
1 high ropes course
Tip: Would you like to get an overview of the available routes, or are you looking for routes in a certain level of difficulty? Just enter the term sport climbing ("Sportklettern") in the interactive route map. If you're into ice climbing ("Eisklettern"), it will show you the routes for this variation of the sport as well – an exceptional way to experience winter on the Tyrolean side of the Zugspitze.
Climbers Paradise also gives you a good overview of the available climbing offers in the Tiroler Zugspitz Arena – from sports climbing routes to multi-rope routes and via ferratas as well as the previously mentioned ice climbing routes.
Fixed-rope routes around the Zugspitze
Via ferratas
Sometimes mountain enthusiasts get a craving for that special vertical adrenaline rush – and that's exactly what the four via ferratas provide. Varying altitudes and levels of difficulty make it possible to discover the local mountains from different perspectives and in different ways.
A Tyrolean climbers' paradise for families
The high ropes course in Bichlbach
Five exciting courses, 60 different climbing elements and countless adrenaline rushes: When it comes to the climbing forest next to the sports and leisure park in Bichlbach , its name says it all. Between treetops, families can experience one adventure after another at this spacious high ropes course . The alpine climbing forest in the Tiroler Zugspitz Arena lets you prove both your courage and skill.
Additional outdoor tip: The Actionpark at the Häselgöhr waterfalls. Climbing newbies and experienced pros can get an exciting insight into various climbing activities there – abseiling, ziplines, suspension bridges and more. For prices and more information, please visit Bergsport Total!
An all-weather alternative
Ehrwald Indoor Climbing Gym
Climbing is definitely an outdoor sport? Well, think again – because the Ehrwald Climbing Gym proves that indoor climbing can be almost equally as exciting as its outdoor counterpart. And it lets you pursue your passion for climbing regardless of the weather. Ready to challenge your body and mind? In the Tiroler Zugspitz Arena, 1,267 square metres of climbing area can be mastered by daredevils of all ages!